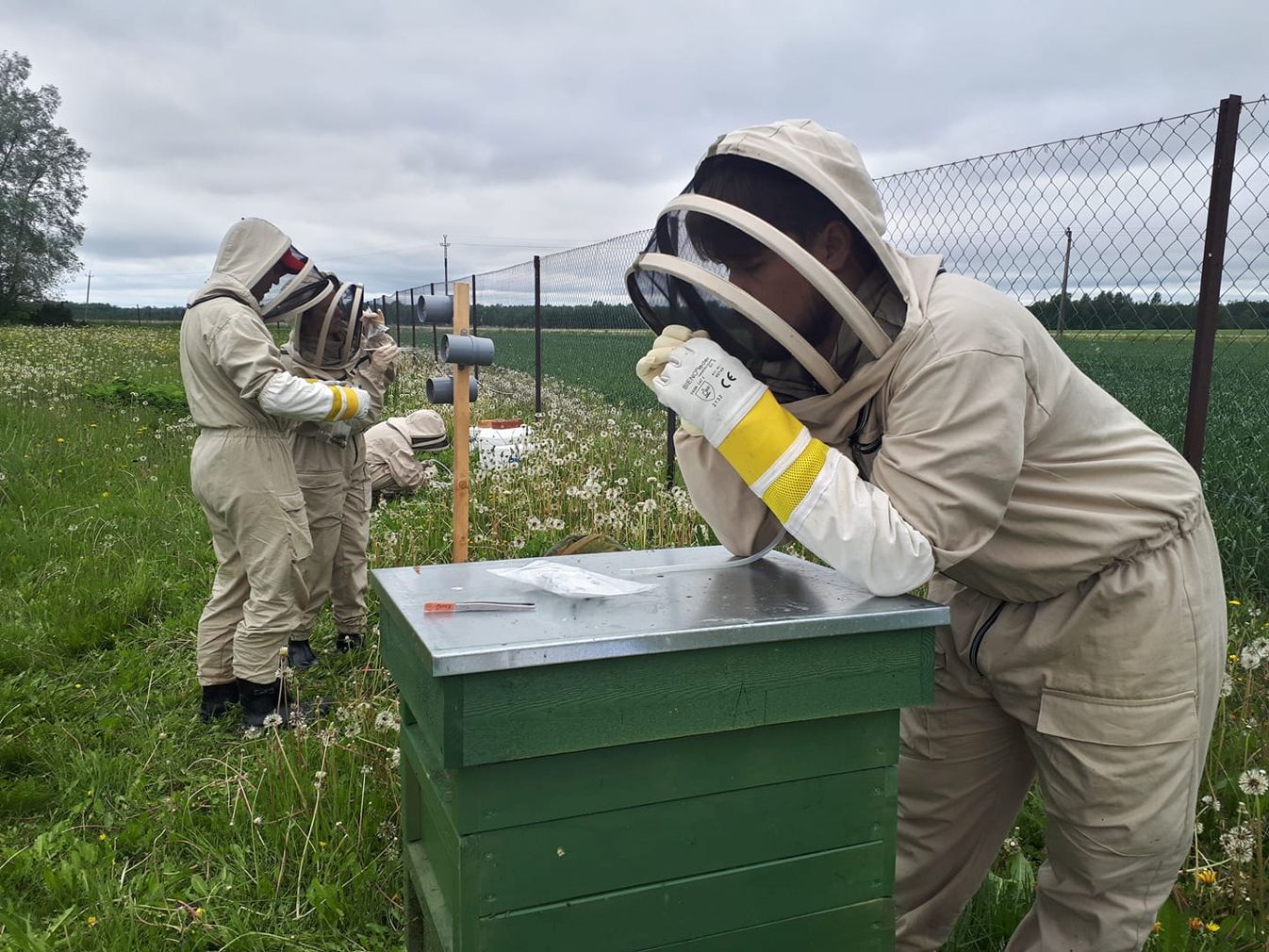 Photo by Sigmar Naudi
Practical and sustainable beekeeping
Master and doctor level students 
In Estonian University of Life Sciences
Tartu
1. Distance learning part; June 19 – 30, 2023  (reading materials, preparing ideas, self-control)
2. Meeting in person July 2-7, 2023  (lectures, visits, lab and field (hive) work, discussions etc)
Beekeeping is an environmentally friendly and economically extremely important economic sector to guarantee sustainable food production. In recent years, beekeeping has attracted new enthusiast both as hobby-beekeepers and professionals. The most important aspect for a successful and sustainable beekeeping sector is educated beekeepers. Even if the course participants would not be beekeepers themselves, better knowledge in this area also enables more precise policy-making and better pollinator protection design for sustainable agriculture and increases awareness in relation to the importance of pollinators for the sustainability of nature and crop production, based on a participatory approach.
This course aims:
to increase the general knowledge about several aspects of honey bees and beekeeping.
to raise the creativity to make the beekeeping enterprise profitable, keep the workload minimal and give the basic experiences to work with living bee colony.
During the course, we focus on
Honey bee foraging demands,
Honey bee life cycle,
Beekeeping practical aspects like disease/parasite recognition, analysis and control.
Field and laboratory experience.
Practical beekeeping (visit to an apiary)
Innovative participative and active learning
In this course, we innovatively bind together the highest scientific knowledge, practical aspects and modernisation of the beekeeping into the functional whole units encouraging people to work with honey bees or to study them in order to develop healthier pollinator populations. The course will adopt innovative education and training tools and methodologies, such as the cross visiting method, roadmaps for creativity, spirals of innovation, that will put forward participative and active learning, allowing students to test and train their skills in the real context, both in their apiaries or visiting others as a process intended to solve problems based on the exchange of experiences and knowledge.
Final evaluation will base on individual presentations, group work outcome and active participating in discussions.
After the course and based on the evaluation results, student will be awarded with 3 ECTS.
Course venue: Estonian University of Life Sciences
Course leader: Reet Karise, assistant professor, reet.karise@emu.ee
Minimum number of participants: 10
Register here: BOVA registration form (registration deadline June 5, 2023)